Guide to North Georgia Vineyards - Wineries
Georgia wine country is calling? Will you answer?? Beautiful rolling meadows full of vineyards, majestic long range layered mountain views, picturesque country sides, and award winning wines await you in the North Georgia Mountains! Below is 15 wineries/vineyards all within 60 miles of Blue Ridge GA.
Bear Claw Vineyards - Blue Ridge GA
Bear Claw Vineyards is located in Blue Ridge, Georgia. Blue Ridge is known for its breathtaking mountain views, pristine bubbling springs, scenic hikes, and amazing fishing and wild life. It is the perfect place to slow down, relax, and reconnect with yourself and those you love.
After living in busy suburbs outside of Atlanta, our owners, Kevin and Michelle Swim, decided it was time to leave the fast pace of the city and relocate to the beauty and tranquility of Blue Ridge. They picked a beautiful piece of land with a natural spring and relaxing breeze, and it quickly became home.

As time passed, Kevin and Michelle decided that the beauty of their land should be shared with others seeking rest, relaxation, and restoration. So, the Treehouse Guys from the DIY network came out and built a treehouse on the property. With guests continuing to revisit the treehouse every year, Kevin and Michelle decided it was time to find another way to offer their land to the community.
After extensively researching the land, Kevin and Michellediscovered that their home was the prime location to grow grapes. At 1832 feet above sea level, with a cool mountain breeze, and rich and unique soils, the land was the perfect place to produce the highest quality wine. Therefore, Bear Claw Vineyards was created on the foundation of top quality wine and a soothing and relaxing aesthetic.
If you are in the area, come on by. We would love for you to enjoy the beauty of Blue Ridge and our delicious and refreshening wine.
---
Serenberry Vineyards - Morganton GA
In the early 1960s, the seed was planted, for what would one day become Serenberry Vineyards, when Henry and Ethelyn Jernigan came to North Georgia. After hearing about the area's trout fishing, they purchased acreage in Morganton, Georgia, with a house and a barn that had been built in the 1920s. After selling the house to a couple of close friends, they converted the barn into what has been known as 'the Little House' ever since.

Fast forward two generations later, and the Little House is still in the family. Years ago, the original house was repurchased, and now overlooks a beautiful vineyard.
Our wines are made from grapes that were born and raised in Georgia. It's good for the environment, and helps to support local farmers.The Little House was renovated, exposing its original roots as a barn, and was transformed into the Tasting Barn in 2012.
---
Odom Springs Vineyards - Blairsville GA
Odom Springs Vineyards is a family owned estate winery located in the lush rolling hills of north Georgia. The vineyards forming Odom Springs Vineyards are located less than two hours north of Atlanta, on the western end of Union County near Blairsville, Georgia in an area known locally as the Young Cane community. Traveling east on Hwy 515 from Blue Ridge towards Blairsville, our vineyards are located approximately one mile inside Union County just past Sharptop Mountain.
For more than a century, the Odom family has owned land in the Young Cane valley. The vineyards and winery are situated on 16 acres of Odom land, most recently owned by the late Earl Odom and his wife, Gwen. The Creekside, New Ground, and Hillside vineyards are located on the nearby 60-acre farm of Gordon (Papaw/Pop) and Christine (Grandmaw) Odom, known as Pop's Walk.
Historically, Union County natives have developed deep roots in Appalachia where farming was not only a job but a way of life. The Odom family has farmed these hills for years, and it is our desire to continue this tradition by producing outstanding wines from the grapes grown in the uniquely fertile soils of the ancient Appalachian Mountains. Come taste the tradition in this Appalachian Wine Country!
Our winter hours are :

Wednesday-Saturday: 11:00 am - 6:00 pm
Sunday: 1:00 pm - 5:00 pm
http://odomspringsvineyards.com/index.html
---
Cartecay Vineyards - Ellijay GA
Cartecay Vineyards is located in Ellijay, GA, situated in the Eastern part of Gilmer County, in the Cartecay region.
The Southern Appalachians in North Georgia are ideal for growing wine grapes. The elevation, the soil and the climate combine to produce wine grapes of the highest quality and subsequently, fine wines.
Cartecay Vineyards has Western facing slopes, which allow for the vines to receive maximum sun exposure, elevations ranging from 1650 ft. to 1750 ft., sloping landscapes to help keep the vines' "feet" dry and clay loam soils, which are conductive to growing grapes.
Cartecay Vineyards was planted in the Spring of 2008 with two varieties, Vidal Blanc and Merlot. Since 2008 four more varieties have been planted; Traminette, Norton (Cynthiana), Catawba and Cabernet Sauvignon, with more planned.
Open 7 Days a Week

Monday to Saturday
11:00am to 6:00pm
Sunday
12:30pm to 5:30pm
http://www.cartecayvineyards.com
---
Paradise Hills Vineyard and Winery - Blairsville GA
As you drive into the entrance of the 35 acre property, there is a small test vineyard roadside, below some of the rental cabins. The main vineyard at Paradise Hills stretches beyond the centrally located Lodge with the winery production building alongside it.

Our vineyards were originally planted in 2012 with a variety of grapes to include Cabernet Sauvignon, Cabernet Franc, Reisling, Chardonnel, Traminette and Sangiovese.
The vines are closely managed and cultivated with specific seasonal techniques to enhance their growth and enrich the grapes' quality.
Here, we strive to balance the regions impact on the grapes with our personal vision of the finest wines. Local wine with European flare.
Our vineyards and farm winery are a family operation that involves every member of the Lander family and Paradise Hills family. Each member is contributing to every aspect and stage of the process… from Grapes to Glass.
Grapes to Glass (winemaking) is a process that we believe is an evolving, forever-learning craft that we are passionate to endeavor. Stop by for a visit and let us share our Paradise Hills with you.
Our hours of Operation are:

Thursday, Friday & Saturday – 12 noon to 6 p.m. (last tasting to begin at 5:15)
Sunday - 1 p.m. to 5 p.m. (last tasting to begin at 4:15)
Monday, Tuesday & Wednesday – Tastings at 1 p.m. only (by appt.)
Reservation Required, at least 24 hour notice.
Give yourselves at least 30 minutes to complete a wine tasting.
Calendar of Events - Check out what is happening at the winery.
---
Nottely River Valley Vineyards - Murphy NC
NOTTELY RIVER VALLEY VINEYARDS, LLC. is a family owned and operated vineyard and winery established in 2008. The vineyard and winery occupies 10 acres of a 93 acre farm that has been in the family since 1820. The vineyard consist of high density plantings of Cabernet Franc, Cabernet Sauvignon, Chardonnay, Primitivo, Pinot Gris, Riesling, and the French Hybrids – Chambourcin, Chardonel, & Seyval Blanc.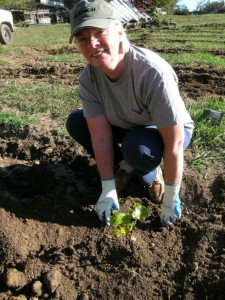 Viticulture practices include high density plantings, leaf pruning, cluster thinning, and limited fruit production. These practices provide the winery with high quality fruit for wine production. The winery consist of a below ground gravity flow design, and includes geo-thermal cooling of the cellar.
Nottely River Valley Vineyards strives for minimal intervention throughout the wine making process. We strive to fashion our wines after the "Old World Style, Hand-Crafted" wines of Europe. The first harvest was in the fall of 2011. The 2011 vintage was released November 1, 2012.
In season, the Tasting Room hours are Friday and Saturdays, 12 p.m. to 6 p.m. Unable to drop by during these hours: call for an appointment 828-837-7822.
---
Crane Creek Vineyards - Young Harris GA
Crane Creek Vineyards sits high in the Blue Ridge Mountains of North Georgia, just three miles north of the quaint college town of Young Harris in the shadow of Brasstown Bald, the state's highest peak. Less than two hours from Atlanta – yet a world away…
The wine, the views, and our vineyard family all contribute to our uniqueness. Although fermentation and post-fermentation winemaking operations are a very major part of what we do at Crane Creek, most of our focus is in the vineyard and in the initial winemaking stages of evaluating grape maturity, selective hand picking, gentle handling and small lot fermentation. When I got into the vineyard and winery business as a second career, wealth and fame were not my goals but truly, the pursuit of the "Jeffersonian Ideal"; that of a man living in harmony with nature and being rewarded in the bounty of the land.
Tasting room Hours:

Monday CLOSED
Tuesday-Saturday from 11:00 am to 6:00 pm
Sunday 1:00 pm to 5:00 pm
916 Crane Creek Road | Young Harris, GA 30582 | 706.379.1236
https://cranecreekvineyards.com/events-calendar/
---
Engelheim Vineyards - Ellijay GA
Engelheim Vineyards focuses on growing outstanding grapes to produce the highest quality of wines. Our objective is to give all glory to God while integrating our German heritage and our Appalachian home. We also hope to honor the original residents of Engelheim, the Cherokee Nation. The owners, Gary and Jan Engel and their family, decided to purchase the land that is now known as Engelheim (German for "Angel Home") in 2007. After Colonel Engel retired from the Army in 2004 and upon his return from Iraq and Kuwait, they decided to live their dream of living in the North Georgia Mountains to grow the finest quality grapes. The Engel family planted their first vines in 2009 and harvested their first vintage in 2011; Engelheim Vineyards has been going strong ever since.

For the Engel family, it is about quality of life and touching other lives. Gary's love for and family heritage of farming has driven the Engels to establish the vineyards, a tasting lodge, and the winery. Their dream also focuses upon building a future for their family.
Tasting Room Hours:
We are open 7 days a week from 12:30-6 pm.
We are pet friendly, as long as your pets are friendly!
http://www.engelheim.com/events/
---
Chateau Meichtry - Talking Rock GA
We are a family owned and operated winery and vineyard, located in north Georgia wine country. The vineyard lies in the beautiful foothills of the Appalachian Mountains. The rolling hills provide a perfect location for growing quality wine grapes. We invite you to come out for a tasting or a glass, while enjoying the beautiful scenery, and on weekends, enjoy live music entertainment from a great array of Georgia musicians every Saturday from 1:30-5:30.
The tasting room is open 7 days a week, Monday - Saturday from 11:00 a.m. to 6 p.m., and Sunday from 12:30 - 5:30 p.m. No reservations are required to visit the tasting room, although advance notice for large groups of 10 or more is appreciated.
Pet friendly!
https://www.chateaumeichtry.co/taste
---
Habersham Winery - Helen GA
Located in the North Georgia Wine Country, one half mile south of Alpine Helen in Nacoochee Village, the winery is open daily for wine tastings.
In addition to a large selection of Georgia grown and produced wines, the tasting room also features a gift shop with gourmet foods and wine specialty items from around the world. We carry imported cheeses and all the fixings for a perfect picnic.
Since 1983, some of the finest award winning Georgia Wines have been produced at Habersham Vineyards & Winery. Habersham's commitment to quality begins with careful monitoring of the grapes in our vineyard by our Vineyard Manager Matt Chobanian. Attention to detail continues through the crushing, fermentation and aging process. Our winemaker Joe Donnow personally sees to each detail of every process.
Habersham Vineyards & Winery | 7025 South Main Street | Helen, GA 30545 | 706.878.9463
MONDAY-SATURDAY | 10a-6p
SUNDAY | 12:30p-6p
http://habershamwinery.com
---
Three Sisters Vineyard - Dahalonga GA

Laid back and fun, Three Sisters Vineyards is a favorite destination of Wine Lovers visiting the North Georgia Mountains and Dahlonega-Lumpkin County, The Heart of Georgia Wine Country. A variety of tastings are offered inside from a large cherry wood tasting bar featuring a distinctive collection of southern folk art and pottery.
Outside, a rock wall patio is said by many to be one of the best places to stop and soak in this unique wine region. Relax with friends and a glass of Georgia "Estate Grown" wine from this unique Dahlonega Plateau region while listening to local acoustic folk and bluegrass or jazz presented seasonally on our Crush Pad Deck. Grapes grown on the estate include Cabernet Franc, Merlot, Cabernet Sauvignon, Chardonnay, Pinot Blanc, Touriga, Cynthiana Norton, Vidal Blanc and Pinot Noir.
Three Sisters Vineyards is proud to be Dahlonega's First Family Farm Winery and Lumpkin County's founding wine grape growers. 184 acres of North Georgia Mountain vineyard beauty and history awaits you at the only place TurnerSouth named Best Winery In The South, Three Sisters Vineyards.
Pet friendly!
TASTING ROOM HOURS
THURSDAY & FRIDAY 11AM-5PM
SATURDAY 11AM-5PMSUNDAYS 1PM-5PM
(LAST CALL 4:45PM)
439 Vineyard Way Dahlonega GA
---
Wolf Mountain Vineyard
Wolf Mountain Vineyards and Winery is a stunning, award-winning winery, located less than 60 miles from downtown Atlanta, Ga., in the North Georgia Mountains.
Often compared to wineries in Napa, our hillside vineyards, fieldstone-encased winery, and hospitality facilities are the perfect setting for enjoying our award-winning, handcrafted wines, a Vineyard wedding, a Wolf Mountain Sunday brunch, a Café lunch, or one of our famed gourmet dinners.
Winter Hours: December, January & February

Tasting Room Hours
Saturday 11am-5pm
Sunday 12:30-5pm
(Tasting Room Appetizer/Pizza Menu Available)
Cafe Lunch & Sunday Brunch will resume on February 10th & 11th, 2018
Spring/Summer Hours:
(March-August)
Thursday - Saturday 11am-5pm
Sunday 12:30-5pm
Fall Hours:
(September, October & November)
Tuesday-Saturday 11am-5pm
Sunday 12:30-5pm
NO pets allowed.
http://www.wolfmountainvineyards.com
---
Frogtown Cellars - Dahlonega GA

In 1998, Atlantans' Craig and Cydney Kritzer founded Frogtown Cellars in the "Frogtown District" of Lumpkin County; a viticultural area carefully selected for quality wine grape production and outstanding mountain views.
Frogtown's principal estate property is a 57 acre vineyard and winery complex located at the foot of the Appalachian Mountains equal distance between Dahlonega and Cleveland Georgia. This estate property is within the geographically defined "Dahlonega Plateau." Frogtown believes the Dahlonega Plateau will soon become a recognized American Viticulture Area (AVA) in the near future.
We believe Frogtown is the most awarded winery not located in California in major US competitions, which are primarily held in California. Since 2010 Frogtown has been awarded 2 Platinum, 36 Gold, 82 Silver and 92 Bronze Medals.
Frogtown has been an outspoken leader in promoting and educating the wine-consuming public about:
The concepts and benefits of growing and making terroir significant and highly awarded wines on the East Coast of the United States
The significance of French and Italian winemaking rules adopted by Frogtown that require strict adherence to certain rules and regulations which protect and greatly assist the ability of wine drinkers in the identification of terroir-based wines.
The need for the wine-consuming public to be aware of deceptive wine labeling practices resulting in California grown wine or concentrate being blended into wines labeled under the name of the State where the winery is located (i.e. Georgia, Virginia, New York, North Carolina) without disclosing the fact such wine contains California grown wine or concentrate.
Frogtown's winery is specifically designed to take advantage of the steep changes in elevations created by the topography of our rolling, hilly terrain. The winery is constructed as a tri-level gravity flow winery. Each of the three levels has a different elevation and serves different functions in the winemaking process. The top level is our crush pad where the initial stages of winemaking occur. The second level, twelve feet below the Crush Pad, is our principal tank room where fermentations occur and wine is stored and blended in stainless steel tanks. The third, six feet below the Tank Room, and lowest level, houses our barrel room where our red wines and some white wines are aged. The third level additionally contains our bottling area. These three separate and distinct levels promote the movement of grape juice and wine by gravity. Using gravity to primarily move juice and wine is significantly less invasive and more gentle than moving juice and wine with the aid of even the gentlest of pumps.
Our winery and our winemaking equipment have been carefully and purposely designed and selected for the production of our unique high quality terroir wines. In addition to substantial stainless steel tanks, Frogtown employs over 450 wine barrels in its winemaking almost equally divided between American and French oak. Please visit Our Winemaking Philosophy.
Frogtown's North Georgia vineyards are at elevations from 1675 feet to 1825 feet above sea level. The estate's land is divided into separate blocks based on the diverse soil, climate, terrain, and vine row aspect of each block. Different white and red wine grape varieties are planted in each distinct block based on the block's viticultural characteristics.
The contours of Frogtown's North Georgia hillside vineyards represent some of the steepest slopes of all viticultural areas in the eastern part of the United States. Along with our hilly terrain, Frogtown's sandy clay loam soil, trellis design, and directional aspect of vine rows create a most unique viticultural environment for our wine growing activities. Please visit Our Vineyards
The Kritzer family invites you to enjoy our unique terroir awarded wines and our delicious food offerings at each of our tasting room locations. For addresses and directions to our tasting rooms, please visit Tasting Rooms and Bistro Cafes.
While at Frogtown, ask about becoming a Frogtown Wine Club "Citizen." Wine club membership is easy and very rewarding. For information about our wine club, including all the benefits received by being a Frogtown Citizen, please visit Wine Club
Frogtown hosts Simply Elegant Vineyard Weddings and Wine Taster's Dinners and Bunches where our awarded wines are paired with Chef-driven unique gourmet food creations. Please visit Weddings and Event Calendar
NO pets allowed.
---
Fainting Goats Vineyard - Jasper GA
People always ask us how we came up with the name. After a long, hard day of vine work, we climbed to the top of the mountain and felt like fainting. From there our nickname was born.
Do we have goats? We certainly do! Ronnie and Reagan are our two fainting goats and they welcome visitors to pet and play with them. We also have award winning wines, a view that only God could create, and a deep love for our business. We welcome you to visit us and would be honored to have you as our guest!
Our boutique vineyard is nestled up against the southeast side of Burnt Mountain in picturesque Pickens County, Georgia. Fainting Goat is a family owned Vineyard and Winery created by a passion for great wine and a love for the earth. We offer live music every weekend day and have Friday Night Concert Series during the season. Our live music is always a free event and we welcome you to bring a picnic and enjoy your wine outside on the Terrace. We are dog and kid friendly, so bring the whole family and enjoy a wonderful day at Fainting Goat Vineyards.
Fainting Goat's exquisite vineyard offers handcrafted wines grown from the finest certified French vines. Our wine list boasts a range of full bodied reds, crisp, fruity whites and sweet blends.
Take a glass of wine and enjoy the scenic mountain-view from our 50 foot Veranda. Or stay inside and enjoy the spacious 30 foot ceilings permeated with live music. Floor to ceiling windows allow all guests to appreciate the panoramic views regardless if seated in the Loft or tasting at the bar. Indoor and outdoor fireplaces make tasting at Fainting Goat perfect regardless of season.
Join us in the tasting room to sample our wines and talk to our knowledgeable staff and wine maker. Come for the wine, stay for the view. We look forward to enjoying a glass with you soon!
Leashed Dogs are welcome on the lawn area. So bring the whole family when you come!
Children of all ages are welcome!
Pack your picnic basket and blanket and relax on our lawns.
Hours
Mondays 12 pm - 6 pm; Thursdays - Saturdays 12 pm - 6 pm
Sundays 12:30 pm - 6 pm
https://www.faintinggoatvineyardsandwinery.com
---
Share This Blog Post